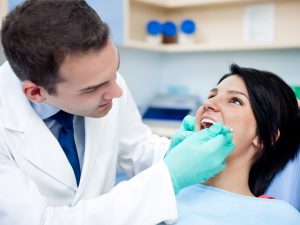 What constitutes a dental emergency? You might think of chipped or broken teeth, or even a knocked out tooth. But at OnCall Dental in Fresno we treat a wide range of emergencies, including infected teeth.
An infected tooth can cause you a lot of serious pain. As bad as that is, the infection can spread and lead to tooth loss. In cases like that, a root canal is in order.
Relieving Pain
The very words "root canal" scare a lot of people, and when you add the word "emergency" it can be even more frightening. But patients with infected teeth are already in a lot of pain. The root canal will relieve it.
Make no mistake: infected teeth are serious dental emergencies. The root canal involves removing any infected pulp from the tooth's interior. Once that's done the area is cleaned and sanitized, and filled with a rubbery substance to replace the pulp. Then the tooth is sealed. Depending on its location, the tooth may be covered with a temporary crown. In that case you'll need to get a permanent crown later on.
Emergency root canals are just one of our services at OnCall Dental in Fresno and Hanford. We offer comprehensive emergency dental care. Remember, in an emergency walk-ins are always welcome.
Contact OnCall Dental (Tap to open in Google Maps):