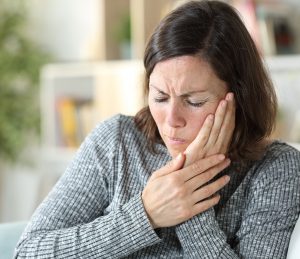 In a dental emergency it is imperative that you seek professional help to address the issue. It's a good idea to keep the phone number to OnCall Dental in Fresno handy – on your refrigerator, say, attached with a magnet.
But we understand there is always the sense that in the short term, you want to be your own first responder. So we're using this blog post to describe some basic things you can do at home in a dental emergency, before you head to our office.
Toothaches. Gently rinse your mouth out with warm water. Adding a teaspoon or so of salt can help, but is not essential. Rinsing will help clean things out, and for mild toothaches may be enough treatment. We want to see severe toothaches, since there could be an abscess. Do not put aspirin on the affected tooth.
Objects stuck between teeth. Dental floss is your best bet. It can help to tie a small knot into the floss. Water flossers and even brushing can also dislodge things that are stuck. But never – repeat, never – use a pointed instrument, like a needle, to try to get it. If it stays stuck, call us.
Chipped or cracked tooth. A warm water rinse is a good first step here, too. If there is any swelling use a cold compress. If a piece of the tooth has broken off, clean it and keep it safe. Then, call us right away.
Knocked out tooth. We want to see you as soon as possible. Generally we will not try to re-insert a child's baby tooth. For permanent adult teeth we may be able to save it if treated within an hour. touch the tooth by the crown (chewing part) only, never the root. Keep it moist. See us ASAP.
You can do initial treatment at home, but at OnCall Dental in Fresno and Hanford we will want to see and treat you. We offer comprehensive emergency dental care. Remember, in an emergency walk-ins are always welcome.
Contact OnCall Dental (Tap to open in Google Maps):