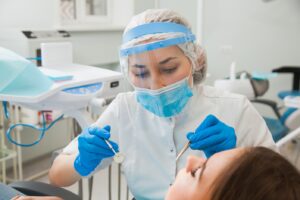 A dental emergency is any situation involving the mouth that requires immediate professional attention. By definition they happen without warning. When they do, stay calm and remember the team  here at OnCall Dental in Fresno.
Lots of situations can be considered dental emergencies. Their common threads are mouth pain, discomfort, and injury – one or all of these.
What We Can Treat
Not all dentists are able to provide urgent care, but that's where we come in. The emergencies we can and have treated include:
Cracked or broken teeth
Tooth infections
Avulsed (knocked  out) teeth
Toothaches
Objects stuck between teeth
In an emergency you should seek professional treatment right away; don't take anything for granted. In the short term, you can (as applicable) rinse your mouth out with warm water or apply a cold pack. But heading straight to our office is essential.
At OnCall Dental in Fresno and Hanford we are equpped to treat a full range of dental emergencies. In an urgent situation an appointment is not necessary; walk-ins are welcome!
Contact OnCall Dental (Tap to open in Google Maps):