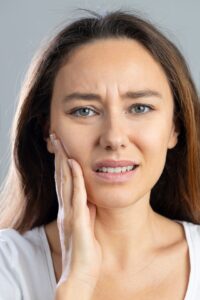 Toothaches are probably the most common complaint we get from patients at OnCall Dental in Fresno CA. But if toothaches are so common, are they really a dental emergency?
Not always – but they certainly can be! A toothache can range from mild to severe, and we know from experience there's nothing quite like toothache pain to keep you up at night.
Toothache Types
A tooth with an infection can be painful indeed, and can easily be considered a dental emergency. If it isn't treated promptly, the infection will not only threaten the tooth, it can spread to other parts of the body and result in serious health issues.
Other common types of toothaches are:
Dull, persistent pain. This is easily the most common type, and may be caused by something as simple as food lodged between teeth. Rinsing with warm water and flossing may be enough, but if it continues, give us a call.
Sharp pain. This is a real attention-getter, and merits a professional opinion. It could be the result of a loose filling or crown, or tooth trauma, or decay. Call us!
Severe throbbing pain. This is definitely something we should see right away. Even if we don't think the cause needs immediate treatment, we can schedule something soon and advise you on how to deal with the pain.
Sensitivity. Tooth sensitivity is fairly common. It's most often felt when eating or drinking very hot or very cold things. Sensitive teeth often respond to special sensitivity toothpastes. But if a reaction to temperature is severe, and lasts more than thirty seconds, let us take a look.
If you have a toothache, you'll probably be okay – but never take anything for granted. Get it treated right away. At OnCall Dental in Fresno CA we specialize in emergency dentistry. Remember, when it's urgent no appointment is necessary; walk-ins are welcome!
Contact OnCall Dental (Tap to open in Google Maps):